is an original cartoon character that are produced by sanrio, it all start off with a mini coin bag that has a little classic hello kitty white and red ribbon on it, then it quickly made a hit.
it was introduced in the U.S and quickly made its way up amongst teenagers who has love in japanese cultures, girls who loves pink , and others.
from a normal coin bag, to ranges of products such as toaster, dresses, plushies, and etc.
even celebrities from hollywood agrees with us, stars like hilary duff, mariah carey and kimora lee simmons are huge fan of hello kitty...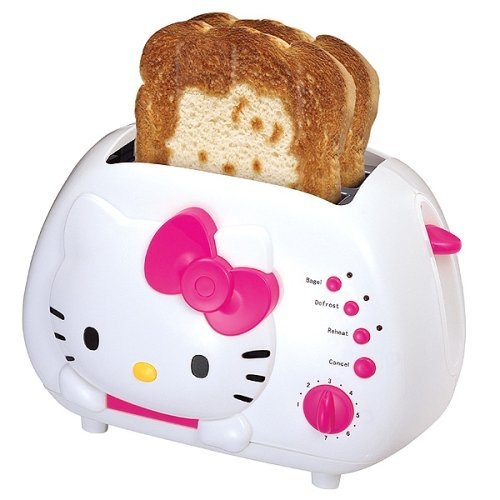 hello kitty toaster *rumour has it hilary duff own this toaster*
hello kitty jewelry line
MAC teamed up with hello kitty to release their collaboration make up line...we all say we LOVE IT!
RILLAKKUMA
making its way up now is rillakkuma, meaning relaxed bear..
with its trade mark of brown relaxed colour, cute round ears with round eyes...
has captivated lots of japanese plushies lover..out there *including me*
arent we all loving the japanese cultures,fashion and goodies?
anyways will update more dolls!
love ya
DISCLAIMER: I DO NOT OWN ALL THESE PICTURES, I GOT THEM ALL FROM GOOGLE IMAGE.